SaveSave
It may sound super cliche but time has flown by. About 7 months ago or so, we booked our wedding venue (and a few vendors) and now we only have 9 months to go. Right now, we're in a bit of a "lull" period with planning so I figured it was the perfect time to share an update with you guys on the process thus far and what the remainder of the 9 months will look like. Fingers crossed for smooth sailing from now until the big day!
Warning: this post is a bit long so be sure you're settled in with a cup of tea or glass of vino!
Venue. The venue search was by far the most tedious and nerve-wracking because most of your budget will go towards it. Also, a good venue (staff, coordinator, etc.) can really make or break your experience. We narrowed our venue search down to few that were close by to our ceremony space. We ultimately landed on The Cape Club of Sharon for a number of reasons. The biggest being they (read: the coordinator Nicole) were super flexible, up front about costs and fees and seemed genuine and eager to make our dream day come true. Second, we LOVED the floor-to-ceiling windows and the bonus outdoor space with fire pits and lounge seating (though it may be a bit chilly in November so stay tuned). A lot of spaces we looked at didn't feel quite right – too glam, too rustic and so on. We felt as though the Cape Club had elements that we both liked: chivari chairs, hardwoods and tall windows for me and a more relaxed vibe for him. We can't wait to make this space our own with our vision. See below for more on that!
Vision. Between Instagram, Pinterest and numerous wedding websites (my favorite by far for inspo is Style Me Pretty!), nailing down a vision can be pretty challenging. Since our wedding is in the late fall, I was torn between jewel tones + boho and keeping it simple, romantic, light, airy and earth-y. I knew for a fact I wanted lots and lots of greens. After scrolling through hundreds of real weddings for inspo, I finally landed on a color palette I felt comfortable with: dusty blue, grey, white, green and gold. Even though I loved the idea of deep hues for fall, my heart was pulling me towards neutrals (surprise, surprise). Since our wedding venue has dark ceilings and floors with large floor-to-ceiling windows, I wanted to keep the space light while also playing off the natural landscape outside and bringing some of the outdoors in. I also loved the vibe of "french romance". Read: lots and lots of candles, script signs and greens. After I decided what I wanted my vision to be, I started panicking: HOW did I make my vision come to life?! Enter: The White Box.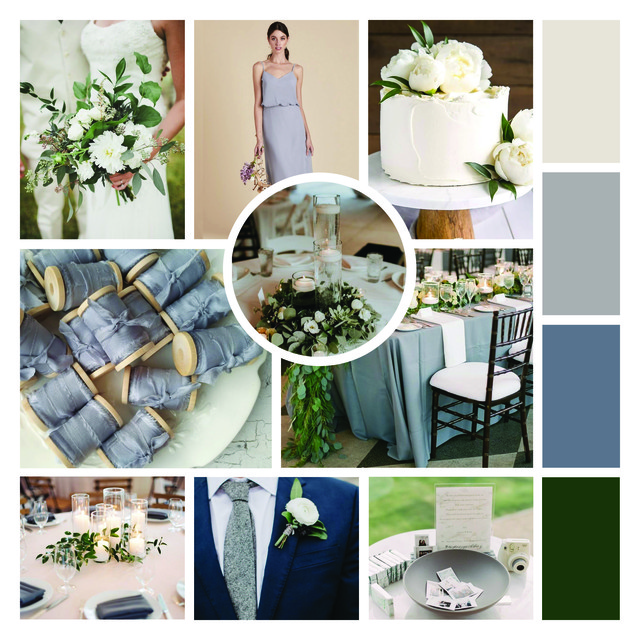 Wedding planner. A few months ago, I reached out to the gals at The White Box after hearing Shauna's super positive experience with them! PLUS, her flawlessly planned and executed wedding. Insert major heart eyes. I loved the idea of a wedding planner but my budget-conscious fiancé did not. Working with the White Box has proved so easy and effortless. What I loved most about The White Box is how personalized yet totally affordable they are. The White Box offers a variety of services: helping with your venue search, creating a custom vision board, providing sample linens and invitations and access to a professional wedding stylist to answer any (and all!) questions you may have like: "do those flowers really go with that? do you have any bridesmaid gift ideas?" and so on. Based on which plan you select, they'll send you a curated box or you'll have access to your vision board digitally. One of my favorite features has to be access to Aisle Planner. My OCD self loves it. This online planner allows you to create a day-of wedding timeline, manage guest lists, keep track of your budget and even create a floor plan of your room! Carrie and Michelle (the founders of The White Box), even added a curated shopping list based on items that fit my style which was HUGE for me because it can take HOURS alone just searching for ribbons, gifts, signs, etc. I'm so excited to continue working with the amazing White Box team as the big day gets closer and closer!
Vendors. Besides the venue and vision, nailing down vendors proved equally as difficult and time consuming. Everyone told us to pick what was "most important" to us in terms of a wedding. We both felt the same way – photography and making sure everyone is up out of their seats and dancing. We chose Stephen Grigoriou as our photographer since we loved how our engagement pictures came out! We actually found him via Instagram. He was so laid back and easy to work with which eased my nerves. We found a highly-recommended DJ from the area, AllStar Entertainment, and booked pretty much right away!
Flowers were also important to me since they would help my "vision" come to life. The one thing I realized: flowers are crazy expensive. Whatever you think flowers will cost – double, or triple it. By trolling Instagram (obviously), I came across Petal & Crumb: a small, local-to-me, woman-owned florist who sources organic blooms. Love, love, love. Kerri has been so easy to work with and I feel as though I'm getting everything on my floral wish list for a reasonable and fair price. Plus, her arrangements aren't your "classic" wedding flowers – they're unique and so, so beautiful! For save-the-dates we kept it pretty standard with Minted but for our invitations we'll be using another local, one-woman-show: Sally Murphy Design. Do you see a trend here?! I spent countless hours searching for just-right wedding invitations and nothing caught my eye. So, I reached out to Sally who will be helping us craft our french romance, meets florals, meets dusty blue watercolor, meets script invitations and stationery. My fiancé and I met at Stonehill College so Sally will also be creating a watercolor map of Stonehill's campus that will be on display at the wedding. I'm most excited about this piece because we can display it in our future-home post-wedding for years to come!

Initially, we were toying around with the idea of a videographer but couldn't find one that was in our price range but also had quality videos. However, my cousin had a wife and husband team photographer and videographer (Merrisa Caroline Photography) at her wedding and when I saw her preview video – I was in tears. We sent them a message right away and ended up booking both of them as our videographers and we're so excited! I feel like it's so special to have a husband and wife duo filming our day.
Finding the right makeup artist was another big to-do. Again, I searched and searched. I wanted someone who came highly recommended since makeup can really set the whole tone of your bridal look. I booked and already had my trail with Tracy from Makeup by Tracy and GUYS, she is the best! Her work makes you feel so fab sans feeling cake-y. She knows how to accentuate all your best features while still looking natural. On the day of our trail she said to me: "you still want your fiancé to recognize you as you walk down the aisle to him" and I couldn't agree more!
Finally, I ended up getting my dress at a local boutique: Ve'Lace Bridal. They were accommodating (I brought 9 people with me LOL) and patient as I tried on a ton of dresses to find the one. No spoilers here, sorry! My girls are getting their dresses from Birdy Grey. I love how many style options they have in the same color option (which is harder to find than you'd think). All of the dresses are also $99 so win-win. My MOH selected the prettiest, sequin-clad dress from BHLDN and I might be the one crying when I see her.
We've booked a few other vendors as well like transportation and rentals, and our wedding cake (which I'm over-excited about, strangely) as well. PS. wedding cakes are another more-expensive-than-you'd-think item. We had such good luck with Konditor Meister! We'll be adding fresh greens to our cake so I want to keep it simple.
What's next? Now that most of the big stuff is done it's time for some fun! Booking a donut baker is next. We're thinking apple cider donuts for fall! I also need to start purchasing signs, candles, etc. I'm a bit strange in the sense that I'd rather gather these pieces super slowly in the next few months than all at once because that can be v overwhelming! I've started picking up small things here and there – like a velvet ring box for style-ized photos because #basic. I also need to decide on other small details like: how will I wear my hair? Will I be needing any extra jewelry? Bridesmaids gifts, day-of essentials like pretty robes and the list goes on.
If you have any wedding advice PLEASE pass it my way!
I can't wait to take everyone on this journey and hope you enjoyed this v lengthy wedding planning update.
Cheers,
Tash
0 Comments